Sell Your Problem Property -Fast!
We are experienced Homebuyers in Colorado and we're ready to make you a CASH offer today! Any size, location and price - Quick Close!
If we can't buy your home, we'll use our powerful real estate advertising and marketing services to sell it & we'll list your home for you on the MLS - at a substantial savings to you!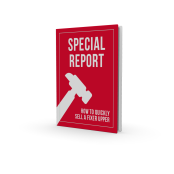 Sell Your House Now!
Complete this short form and receive a fair market cash offer on your property PLUS you get immediate access to our brand new FREE report, "SPECIAL REPORT: How To Quickly Sell A Fixer Upper.
We Are A Real Estate Investing Company
Our company buys and sells homes from Colorado Springs to Denver. We will not be acting as your real estate agent or broker if we buy your house. We are excited to potentially work with you directly OR if you are represented by an agent or broker. We are focused on improving neighborhoods and redeveloping areas that we work in. If you have additional questions please contact us at 719-646-0004.